Medusa Islands
Announcement and Discussion thread: Medusa's Head Virtual Property to be Auctioned on Planet Calypso
---
Medusa's Head Main Complex
[
edit
]
The Medusa's Head Main Complex is located in the center of the islands on the Medusa Bazaar Estate at ~(532xx, 693xx).
The closest Revival Point is the central Revival Point at ~(52151, 68698, 114).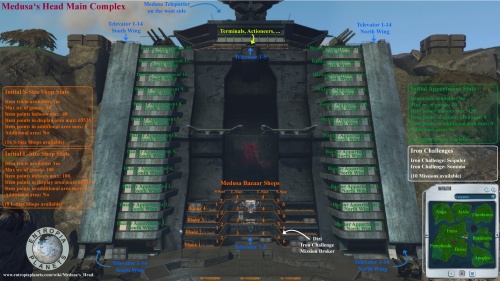 Maps and Locations
[
edit
]
The land areas on Medusa's Head:
Teleporters
[
edit
]
Total: 2
Locations
[
edit
]
Three big islands
Deino island - fertilizing station - 52774, 67823, 222 - revival
enyo island - fertilizing station - 52050, 70231, 116 - revival
phemphredo island - fertilizing station - 50907, 68512, 227 - revival
Five Small islands
Apophis Island - fertilizing station - 55723, 66979, 112 - revival
Ayida Island - fertilizing station - 53553, 72460, 117 - revival
Bakunawa Island - fertilizing station - 55737, 69359, 119 - revival
Naga island - fertilizing station - 50801, 70231, 116 - revival
Ouroboros Island - fertilizing station - 54839, 70712, 98 - revival

Natural spawns of the islands: Gokibusagi, Prancer, Allophyl, Berycled, Snarg, Estophyl, Itumatrox, Caudatergus, Cornundacauda, Hiyuru, Tripudion. In addition, some puny's spawn outside the residential area. These are the spawns that are not available to control via the DNA, but the land-manager will be able to have them removed.
(A mistake was made when we first went out with the information about Medusa, it was said that these spawns could be moved once; however that is not correct. They can only be removed. The info-page have been updated.)
There will also be fish in the waters around the islands, such as Calypsocods, Razortooths and Rippersnappers. In most cases they won't be covered by the Land Area.
There are no plans by FPC of removing or touching any existing spawns of any of these mobs.
Hunting Lodge is what you know as the Shed, however it is redesigned to fit with the Medusa Theme.
Medusa's Head Missions
[
edit
]
Iron Challenges available from Dizi at (53437, 69352, 110) on Level 2 of Medusa Bazaar/Main Complex
Scipulor Chain (5)

[

edit

]
Scipulor Mission Chain
Mission Name
Start Location
Broker Name
Objective
Reward
Iron Challenge: 100 Scipulor
Medusa's Head


(Main Complex/Medusa Bazaar)

Dizi
Kill 100 Scipulor
+ 1 Psyche
Iron Challenge: 500 Scipulor
Kill 500 Scipulor
+1 Intelligence
Iron Challenge: 1,000 Scipulor
Kill 1,000 Scipulor
+1 Agility
Iron Challenge: 5,000 Scipulor
Kill 5,000 Scipulor
+ 1 ???
Iron Challenge: 10,000 Scipulor
Kill 10,000 Scipulor

+ 1 ???
Choice between ???
Sumima Chain (5)

[

edit

]
Medusa's Head Sale January 2011
[
edit
]
Auction
[
edit
]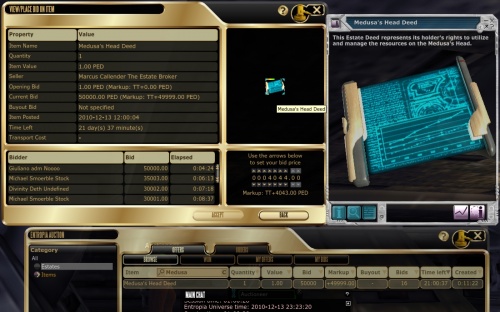 Bid History

| Bidder | Bid | Time |
| --- | --- | --- |
| Giuliano adm Noooo | 50000.00 | ??? |
| Michael Smoerble Stock | 35003.00 | ??? |
| Divinity Deth Undefined | 30002.00 | ??? |
| Michael Smoerble Stock | 30001.00 | ??? |
| Jenna Star Mercury | 30000.00 | ??? |
| Michael Smoerble Stock | 20001.00 | ??? |
| Michael Smoerble Stock | 1003.00 | ??? |
| Liberty Tregidio EXR-5 | 1002.00 | ??? |
| Bob Zorg Kernel | 1001.00 | ??? |
| ManagJah Dex Oh | 133.00 | ??? |
| Una Griph Alconbury | 132.00 | ??? |
| Mark Mark Gideon | 131.00 | ??? |
| Mr Infinity Infinity | 130.00 | ??? |
| Maria mastermesh mesh | 129.00 | ??? |
| Tatia Arielle Shura | 2.00 | ??? |
| Max maShin Power | 1.00 | ??? |
Medusa's Head Info Page
[
edit
]
Welcome to the Medusa's Head islands Auction on Planet Calypso
Located between the Eudoria and Amethera continents, this island group is conveniently segmented into eight distinct land areas which can be administered individually by the owner. Each land area is complete with its own hunting lodge, fertilizer station, and revival terminal.
The islands are inhabited by a number of indigenous species, and fish will be found in the surrounding waters. As part of the purchase two special species DNA will be provided for the owner to breed. The estate's minerals and enmatters will also make it an attractive destination for miners. The owner will have full rights to set individual tax levels on each of the land areas, generating daily revenue from visiting hunters and miners.
The main island is divided into three large land areas, with each of the other five areas spread over the remaining islands. The main island also contains a large historic dwelling complex. Once the last bastion of human resistance during the first Robot War, and later a smugglers hideaway, the cliff-face complex has been fully renovated and now offers shopping and residential areas, a jetty for water borne visitors, landing pads for aircraft, a hangar, a direct teleporter to other locations on Calypso, as well as revival, storage, trade and society terminals.
The property will be available for viewing from December 7, with the official auction beginning on December 13 and lasting until January 3.
Images

Medusa's Head Offer Details
Land area: circa 35 square kilometers.
8 land areas total. 3 on main island. 5 spread over remaining islands including water areas.
Individual tax levels may be set by owner for each land area.
Land areas include hunting lodge, fertilizer station, and revival terminals per default.
Land areas include minerals and enmatters.
2 special species DNAs for breeding: Scipulor and Sumina. These DNA spawn locations may be changed once by the owner. The DNA cannot be resold.
Indigenous species. The spawn locations of these species may be changed once by the owner, and spawns may be removed but not added to.
Main complex includes individual deeds for 24 rent-free shops and 24 rent-free apartments.
Sales tax from shops goes to Medusa's Head estate deed holder.
Teleporter available in main complex. (((There will be no TP fee from/to Calypso.)))
Revival, trade, storage and society terminals available in main complex.
A hangar will be built in main complex when hangar system is reintroduced to platform.
2 unique iron challenges will also be provided on the estate.
Bidding on the Medusa's Head Property
To bid on the property you will need an Entropia Universe avatar account which can be created here , and sufficient PED currency on your account. The various deposit alternatives are available here.
Once you've created your avatar and passed through the Calypso Gateway orientation area, you'll need to visit an Auctioneer NPC which can be found in most settlements on Calypso. Right click and operate the Auctioneer NPC to open the auction interface. Navigate to the Estate category and double-click the 'Medusa's Head Deed' from the listings. Your avatar is now ready to place a bid using the interface. N.B. The 'Medusa's Head Deed' will be added to the auction on December 13.
Withdrawal Fee Waiver
For parties solely interested in bidding for Medusa's Head, a special waiver of the 1% withdrawal fee will be available. To take advantage of this waiver:
Your deposit must be larger than USD 50,000 and arrive before the auction ends on Jan 3.
You must send an email to rec@mindark.com stating your avatar name, deposit amount, and date of deposit in order for us to verify your participation in the auction.
Further info
[
edit
]
Medusa's Head sold for 300,009 PED (~30,000 USD) to a group of investors led by Qetesh, read more in an article: Medusa's Head auction - PED 300,000 for 8 LAs
Release Notes
Medusa's Head: It is possible to get to the Medusa's Head islands (not to be confused with Fort Medusa) by going by boat south-west from Port Atlantis, or swim there if you are brave enough. The Medusa's Head islands are a property that will be for sale. For further details, visit the Medusa's Head Info Page here. The Medusa's Head islands feature:
The Bazaar featuring 24 shops 24 apartments
A mansion for the owner, overlooking the marina and the bazaar
A landing pad
A marina
An outpost
Three big land areas: Deino, Enyo and Pemphredo
Five smaller land areas: Naga, Ayida, Apophis, Ouroboros and Bakunawa
Further Info

The Story of Medusa's Head
[
edit
]
In the first Robot war, the Imperial Armed Forces were pushed back. As they retreated, Special Forces set up a hidden cache of weapons and supplies on an island off Eudoria. From there, they hit the robots both on Eudoria and Amethera. The base grew from a hidden supply cache to a fortress. Defense systems were set up at the outskirts of the remote island, and bunkers and a command center were built to direct the war. From there, they fought back and pushed the robots off the planet!
When the war ended and the base was no longer needed, Special Forces simply stripped it bare and left. For some time, it just sat there, unused and abandoned, until smugglers found it.
To the smugglers, it was perfect. It was hidden and close to the flight corridors to Athena and Port Atlantis. It would be easy for any smuggling ship captain to just slip out of the path and land, or just drop the cargo right down on the islands as you flew over them, without the traffic control ever knowing.
So the smugglers took over.
Of course, it wasn't that easy. It wasn't just one smuggler band. There were several, and they fought for control over the base. In the end, the Medusa band rose above the others and a truce was called. Medusa was firmly in control, but as long as that fact was respected, other bands were tolerated. They refitted the old base to serve their needs: Medusa's Head.
The Medusa band ruled Medusa's Head for many generations of smuggler bosses. But no empire lasts forever. Kessner, the last boss of the Medusa band, died. The official reason is old age and fast living, but some people whisper that it was murder.
Whatever the cause of death, there was a problem. The problem was that there was no clear line of succession. Again blood was spilt over Medusa's Head. However, this time nobody came out on top. The government moved in to fill the power vacuum. They didn't want to abandon Medusa's Head to bandits and smugglers like they did last time, so they decided to sell the base and all that goes with it to the highest bidder.
For the smugglers, it is a sad end to their tale. The few splinters that were left of the smuggler bands had no choice but to get out of the way or adapt to a new and legal life. For everyone else, it is a new opportunity on the frontier, as the old smugglers' den Medusa's Head is for sale!
Medusa's Head Original Press Release
[
edit
]
English | German/Deutsch | French/Francais

Planet Calypso to Auction Medusa's Head Property
The largest virtual property sale ever offered begins soon

GOTEBORG, Sweden, Dec. 3, 2010 /PRNewswire/ -- First Planet Company, developer and publisher of Planet Calypso, the oldest planet in the Massively Multiplayer Online Game Entropia Universe, announced today the auction of the Medusa's Head islands on Planet Calypso. This huge sale will allow one player to acquire the deed to the largest virtual property ever sold and potentially one of the most lucrative in existence.
Medusa's Head is the fourth major property opportunity offered on Planet Calypso. This property will be available for virtual viewing starting on December 7th to anyone playing the game and to all potential buyers that wish to visit for their first time. The auction will begin on December 13th and anyone with money in their account can bid on the property. There is no minimum and the normal 1% withdrawal fee will be waived for potential investors bidding over $50,000.00 USD. For more information on how to bid please go to www.planetcalypso.com/planet-calypso/medusa.
The Medusa's Head islands encompass 8 different revenue generating land areas. There are three on the main island and five on surrounding smaller islands. The property will also come with 2 unique creatures which will be of interest to hunters from around the planet. Additionally there will be a number of other indigenous species, as well as mining, retail and residential assets. A teleportation system is included to make travel easy, although anyone can get there by air or boat.
Planet Calypso recently saw a smaller asteroid with shops, hunting, mining and a nightclub sell for $635,000.00 USD; it was originally bought for $100,000.00 USD in 2005. Operating profitably from day one the resort recouped the $100,000.00 USD in mining/hunting rights alone in its first eight months and was previously in the Guinness World Records book as the most valuable virtual item. The auction of this attractive virtual property is expected to generate a high level of investment interest.
First Planet Company is the developer and publisher of Planet Calypso, the oldest planet within the Entropia Universe, the largest real economy Massively Multiplayer Online Game in the world. Players have the ability to participate in a unique virtual world where they have no monthly costs. Its innovative real money economy uses a virtual currency which has a fixed exchange rate with the US dollar. This allows players to deposit and withdraw real funds for their adventures on Calypso or in the real world. Planet Calypso uses a state of the art graphics engine to deliver the highest quality visuals in an MMO today.
Planet Calypso is a free download available at the game's official website, www.planetcalypso.com. Follow Planet Calypso on Facebook here.

About First Planet Company
First Planet Company AB is a subsidiary of the MindArk Group. First Planet Company AB develops and markets Planet Calypso, a Massively Multiplayer Online Role Playing Game (MMORPG) based on the Entropia Platform, and is part of the Entropia Universe. Set in a distant future, the planet Calypso is home to an expanding human colony engaged with the natural and economic elements of establishing their new civilization.
For more information on First Planet Company (FPC) and Planet Calypso please contact us at the numbers below or go to our website at http://www.planetcalypso.com. Copyright © 2010 First Planet Company. All Rights Reserved.
SOURCE First Planet Company
Links, references, contributors, other sources, categories
[
edit
]

Other sources: