Next Island Origins
Win a free Next Island Origins download - Click for more info!
Next Island Origins
[
edit
]
Next Island Origins is an iPhone/iPad game in Branching-path gamebook style. It's a prequel to Next Island set in the 1980s Cold War era: "Origins tells the story that led to the discovery of a futuristic parallel dimension – Next Island. Also, players will discover through imagery and a cold war sci-fi narrative why the island was founded, and how the doorway to the futuristic land that is known as the Next Island virtual world was opened." said Erik Reynolds, PR Consultant for Next Island in an interview with EntropiaTimes.[1]

Next Island Origins (as well as Next Island Origins HD) has been released on 25 Oct 2010. It's available for download on iTunes: Next Island Origins

Article introducing Next Island Origins: NEXT ISLAND: ORIGINS - an EntropiaPlanets Exclusive (including NI Origins Artwork)
Forum thread discussing the game: Next Island Origins
Next Island Origins Screenshots
[
edit
]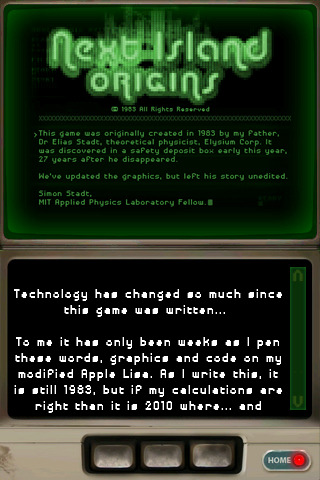 Next Island Origins Artwork
[
edit
]
Next Island Origins Press Release
[
edit
]
"DELVE DEEPER INTO NEXT ISLAND'S RICH SCI-FI STORY WITH INTERACTIVE PROLOGUE NEXT ISLAND: ORIGINS

New York, October 27, 2010 – Next Island (NextIsland.com), a free-to-download and free-to-play virtual world, has announced that it will be publishing a companion game to its MMOG that will divulge the prologue to its sci-fi story and reveal the mysterious characters that forever changed the world.
Developed by Battletested Entertainment for iPhone, iPod Touch and iPad, Next Island: Origins builds upon the original story crafted by David Post and explores the 1980s Cold War era through retro text-based adventure themes, gripping sci-fi narrative and modern interactive fiction gameplay.
Direct links to both games can be found here:
iPhone: http://itunes.apple.com/us/app/next-island-origins/id397762799?mt=8
iPad: http://itunes.apple.com/us/app/next-island-origins-hd/id397832036?mt=8
Set in 1983 and designed in the classic "Choose Your Own Adventure" style from 80s era of video games, Next Island: Originswill introduce players to Elysium, a small island in the South Pacific and home to a settlement of the world's most brilliant minds. Disillusioned by global politics and the constant shadow of nuclear war, these idealistic scientists toil in isolation to create new technology to solve the world's problems, but stumble upon a great and unlimited power source and accidently open a door to an alternate reality with terrible consequences. This game is based on one scientist's secret confession disguised as video game and discovered 27 years later by his son. Next Island: Origins will shed light on Elysium's dark past and will give players clues on how to travel through time and embrace its bright future.
"The development of Next Island: Origins allowed our team to creatively blend actual historical events with a compelling science fiction story and casual gameplay," said Erik Reynolds, Game Designer and founder, Battletested Entertainment. "The 1980s were a rich time for video games and we leveraged this inspiration to give us a framework to tell this story in a stylized and fun way."
"Mobile gaming platforms like iPhone and iPad are a great way to reach our audience and have them participate in the story before the Virtual World is open," said David Post, founder, Next Island. "Next Island: Origins is a great appetizer before players dive into Next Island and create their avatars."
About Next Island:
Next Island is a free-to-download and free-to-play virtual world developed on the Entropia Universe platform. Founded in New York by David Post and developed by NEVERDIE Studios, Next Island attracts casual online gamers and passionate MMOG players alike with its unique blend of gameplay, story and real cash economy. Next Island is also the publisher of upcoming text-based adventure game Next Island: Origins for iPhone, iPad and iPod Touch. Next Island is privately funded since 2008 and is now allowing outside investors the opportunity to participate in the next rounds of funding.
For more information please go to NextIsland.com or follow us on Twitter @nextisland."
References and Links
[
edit
]