Adopt A Newbie Foundation

Under construction.
Please help to improve this page!
Task
Owner
History Done
Lykke
Update Forum Links InProgress
Theros
Concept Section Done
Lykke
Example Contract Done
Lykke
Society List Done
Tass
Tools & Links Done
Tass
Tools & Links Descriptions
?
Adopt A Newbie Foundation Society Section
?
Adopt A Newbie Fund Section
?
ANF process flowchart Done
Tass
ANF "badge" Done
Tass
Review the page Done
Dalas
Other pages with tasks
History
[
edit
]
The Adopt a Newbie Foundation (short: ANF) was founded by Lykke TheNun, January 2010. It was a result of a year long dream of having a newbie school. For years Lykke had the School of Lootius (SoL), a spring from Church of Lootius, with the same purpose, to welcome newbies into the game through a society, where it would be possible to get the needed help and support in the beginning. Unfortunately there wasn't the needed time or support to run SoL and the School of Lootius was disbanded.
With the new EntropiaPlanets forum also new ideas and possibilities were born, and Lykke decided to try out a new concept for newbies in game. Now it was more important than ever, because MindArk removed the old mentor system in game.
It started out with a concept and idea thread in November 2009, and thanks to the support from a lot of people, the Foundation became a reality in January.
The Foundation was a success and it was soon obvious that there was too much work for one person alone, and Dalas joined the ANF team.
After this, things went fast. Dalas made a new 'newbie' society for those who wasn't offered a society right away - and in August 2010, Lykke handed over the full responsibility of ANF to Dalas. [1]
Meanwhile the ANF has arranged 40+ adoptions many of which have been success stories.[2][3][4]
Concept
[
edit
]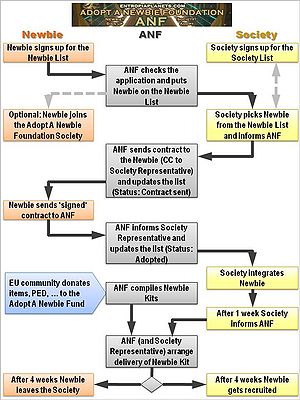 Societies Concept
[
edit
]
Sometimes it can be difficult to recruit the right people for the society! And more so, sometimes it is difficult to regret it afterwards!
You can help and support newbies and the community by adopting a newbie for a 3-4 weeks period.
The concept works like this; We gather together newbies, who are interested in being adopted by a society, on a list available on www.entropiaplanets.com.
All newbies will receive a contract where they have to agree to certain 'rules' of conduct. You decide further on the newbies recruitment, training etc. from the day the newbie joins your society.
It is of course in both parts interest, that you care about the newbie you adopt and will make sure the newbie has a valuable time in your society. Maybe you even wish to recruit the newbie afterwards, but if not, you know the agreement is settled for a trial period of 3-4 weeks.
If you are interested in adopting a newbie, please send a private message to Dalas, who's in charge of the Adopt a Newbie Foundation directly on www.entropiaplanets.com and tell him, which newbie(s) you wish to adopt.
All information can be found in the special Adopt a Newbie section on EntropiaPlanets.
The Newbie List
[
edit
]
Newbies, who are interested in being adopted, can sign themselves up on the *Adopt a Newbie* list.
If you meet newbies in game but do not have the possibility of recruiting them into your own society, please tell them about ANF and suggest they sign up on the list or apply for the in-world Society called "*Adopt a Newbie* Foundation".
If you wish to adopt a newbie on the list, please send a private message to Dalas, who is in charge of the Adopt a Newbie Foundation directly, with the name of the newbie(s).

How to sign up for the Newbies to Adopt list!
Copy past the underneath points and post the form in the *Adopt a Newbie* list thread with your informations. We will return to you when we add you to the. When a spot is open in a society you will be contacted from us with a contract. After you confirmed the contract, you will be contacted by the society leader for further info, were to meet up etc.
In game name
In game gender
Real life location
Real life gender
Real life age
Join date
Agility
Personal advantages (keywords about your personality)
What do you seek for in the community/society
What kind of help are you hoping to get by joining a society
What are your own contributions to make this happen
The Contract
[
edit
]
The contract, which will be sent to the newbies, cc to the society leaders, look like this:
Dear Newbie
Congratulations on the adoption.
This PM is your Adoption Contract. The society leader who wishes to adopt also gets this, and both of you have to agree to the terms below.
You agree by returning this contract (PM) back to me with a reply saying: I agree to the terms - and your name.
After this the society leader is obliged to make an arrangement with you for a meeting with and invitation to the society. This process should be underway within 3 days from now. If you have any questions, please do not hesitate to ask.
After this you, newbie, are on your own in your new society and hopefully this will give you a needed hand and push you further into the Entropia Universe.
We, at *Adopt a Newbie* Foundation thank you for choosing ANF and wish you both the best in future.
OBO Adopt a Newbie Foundation
---
Agreement (Rules of Conduct):
After signing up on our list, a society might adopt you for a limited period of 4 weeks.
The agreement will be written from here and signed by the society leader of the society which adopts you.
You agree not to scam the society and its members in any way.
The Adopt a Newbie Foundation will hand you over a basis start kit when 1 week of the agreement is ended.
The Adopt a Newbie Foundation will keep in touch with the society to hear how things are going.
The society is allowed to kick you from society if you do not follow the rules in the society or because of unacceptable behavior - and the society leader will have to inform the Adopt a Newbie Foundation about this - and your name will be deleted from the Newbie list.
You can only be adopted once through the Adopt a Newbie Foundation.
To sign up on our list you have to fill the form shown under this.
Our guideline is that newbies should have 15 agility or less (+/-) and to be a Freelancer to sign up on the list. If you have more than this we will make an individual decision based on your time playing and experience.
The Adopt a Newbie Foundation cannot promise you to be adopted and are not held responsible for your further journey in a society or in Entropia, although we will try to help as much as possible and to look after you.
You have to inform the Adopt a Newbie Foundation if your social status or agility skills change, or if you wish to be deleted from the Newbie list from other reasons.
Since the *Adopt a Newbie* Foundation is based in EntropiaPlanets.com and all written contact and communication will be held from there, it is vital that you as a newbie are a member of the EntropiaPlanets.com community.
---

As a welcome to the foundation you can find a list of helpful tools in the Adopt a Newbie section, all provided by awesome people and organizations within the Entropian community.
We welcome you

---

Adoption Information:
Newbie: [URL="http://www.entropiaplanets.com/members/*username*.html"]*username*[/URL]
Adopting Society: [URL="*soc post"]*soc name*[/URL]
Society Leader: [URL="http://www.entropiaplanets.com/members/*username*.html"]*username*[/URL]

I accept the terms, signed,
................................................
................................................
.......................................
Participating Societies
[
edit
]
Current
Society
Correspondent
Zone
# of Adoptees at any time
Looking for...
Lost Renegades
Narfi
North America
4 - 6
?
Age over 18. Must agree with rules posted on the Society Website. [5]
Death Unlimited
Dalas
Europe
2 - 3
?
Fitting personality.
Die Templer
bistl
Europe (Germany)
Max 12/week (hehe)
?
German speakers.
Brainstormers
Dave Neuromancer
USA/Europe
3 - 4
?
Age over 18, N. America/Canada [6]
-TAO-
Juniper Jaywalker Jones
All over!
Max 4?
?
"..mature attitude and a willingness to do some of their own research! Must be willing to accept the term "noob" as a sign of affection, not an insult!" [7]
SPU
Kosh
All over
2 - 3
?
Adult, self-sufficient, English speakers. [8]
Irken Invaders
Foeburner
All over
2-3
?
"We are looking for anyone who likes being social, and speaks OK English." [9]
Chetara
Jay Carr
Anywhere
4 - 5
?
"...as long as they can type at least enough English to get by" [10]
Ouroboros
Penny Dreadful
Anywhere (mainly North America)
3
?
"We are an English-speaking society, but we don't expect perfect grammar and spelling " [11]
Interstellar Trade Corp.
Zelgais Greyworth
North America, looking to diversify
3+
?
"Positive attitudes towards our members and other new players, to have fun while you're playing" [12]



Totals

13 (15)
41


(22:03, 11 August 2010 (BST))
Adopt A Newbie Fund
[
edit
]
The Adopt a Newbie Foundation has already been supported by people from the community - not only by providing tools, guides etc. - but also by providing tt armor and weapons etc.
Pm Dalas, who is in charge of the Adopt a Newbie Foundation directly for further information or if you wish to donate to the fund.
The items in the fund will be handed out to the newbies as a newbie kit a week after they join a society through the Adopt a Newbie Foundation.
We hope a lot of Societies will see this as a new exciting way to recruit new people and also see this as a great opportunity to be doing a difference when it comes to integrate newbies and keep them in game.
The Adopt a Newbie Fund Thread
Individual Donators
Shadowsong, Lykke, Suu Miles, Ion Atlan Leticron], Dalas, Roni, Jaywalker,Zaney Zero Money,Witchiness Freja Braveheart, Udia KillerDawg Xiuhcoatl, Mark Rufen Power, Michiel Twister Vandemalle, Morgoth Morgotti Morthond, Aboo The Fish Musacaar, Noodles NightOwl O'Shea, Emil The SkilledOne, Igor DoublePity Arris, Bruno SoulReaver Silva, Wolf tamlin 4711, Fred Paco Iglesias, Sorrowraider Wild Slaveringflame, Dinah Blaze Arris, Penny Dreadful, Fenlena Lena McLaughlin, Jaded Jarocka Jaundice.


Group Donators -TAO- Society, Dinah & Igor Arris, Ouroboros Society.
Adopt A Newbie Foundation Society
[
edit
]
The idea is that newbies who have successfully applied for ANF and been added to the list are able (but not forced) to join this society while waiting to be adopted.
A detailed guide explaining how to join a society using the example can be found there How to apply for membership in a Society
The ANF Society has also a private society forum on EntropiaPlanets and it's very own wiki pages: *Adopt a Newbie* Foundation
References and Links
[
edit
]