Teleporter:Zychion Citadel
From EntropiaPlanets Wiki - Entropia Universe Guides Wiki Info
Teleporter
This box is supposed to give an overview. For details please refer to the content on the left of the page. To edit the content of this box please click the edit pencil.
Teleporter Name
Zychion Citadel

Teleporter Location

Longitude
69478
Latitude
77402
Height
120
Destination
Calypso
Area
Eudoria
Estate
PVP

Teleporter "Properties"

Initially on the map
X (No)
Associated Achievements
Estate Improvement
?
One-Way Teleporter
?
Version Update

"Facilities" available closeby

Revival Point
✔ (Yes)
Auction
✔ (Yes)
Technician
?
Storage Facility
✔ (Yes)
Trade Terminal
✔ (Yes)
Repair Terminal
✔ (Yes)
Manufacturing Terminal
✔ (Yes)
Society terminal
✔ (Yes)
Ad Terminal
?
Event Guide
✔ (Yes)
Missions
?
Local PVP Zone
X (No)
Global Ad Screen
?
Broadcaster
?
Automated Gun Turret
✔ (Yes)
Bank
X (No)
Shops
?

Remarks
General information
[
edit
]
Zychion Citadel is both a city and a monument. One of the first cities on Calypso, Zychion was built by the first colonists and was very heavily damaged and almost completely abandoned during the first robot wars. Extensive ruined fortifications and battlefields can be found all around the perimeter of the city and within the city itself there are many ruined buildings, roads and flyovers. Today Zychion is partially inhabited, with functional bar, shop and teleporter. While some repair is being carried out to facilitate Zychions role as a functional city, much damage has been preserved as a monument to the original colonists and warriors of the first robot wars. Zychion Citadel is part of the noob triangle, which consists of the area within Port Atlantis to Billy's Spaceship Afterworld to Zychion Citadel back to Port Atlantis.
Facilities
[
edit
]
Creatures
[
edit
]
Creatures that can be found near Zychion Citadel
Getting To Zychion Citadel
[
edit
]
Run southeast from Camp Phoenix.
Of Interest
[
edit
]
Extensive ruins
Event area/organiser
Omegaton Statue in the former town center
Unique bar location
Localities and activities close-by
[
edit
]
Nothing close-by available or not documented yet.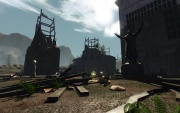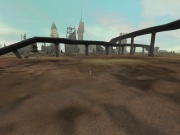 Links, references, contributors, categories
[
edit
]