Mission:Unlocking the gate
From EntropiaPlanets Wiki - Entropia Universe Guides Wiki Info
Mission Overview
This box is supposed to give an overview. For details please refer to the content on the left of the page.

Destination

The planet or destination where this mission starts.

Next Island

Mission Set

The set of misisons this mission belongs to.

Mission Chain

The mission chain this mission is part of.

Mission Scope

The scope(s) of this mission.

Exploring Special

Initial Mission

Indicates whether or not this mission is the initial mission of a mission chain.

X (No)

Repeatable

Indicates whether or not this mission is repeatable.

X (No)

Start Condition

The requirements to be fulfilled in order to start this mission.

,

Mission Giver

The NPC, terminal or item that gives this missions.

0574-Samuel

Position

The coordinates of the NPC, terminal or item that gives this missions.

(137319, 83240, ?????)

Closest to

The location the NPC, terminal or item that gives this missions is closest to.

Teleporter:Crystal Center

Cost-free

Indicates whether or not this mission can be completed without spending PED.

X (No)

For Beginners

Indicates whether or not this mission is suitable for beginners.

?

Version Update

The version update this mission has been introduced or fundamentally changed for the last time.

12.4.2

Remarks

General remarks regarding this mission.

Extensive info for this mission can be found in the official guide Arthur's Island Tours: Part Three.

Objectives

Objectives in this mission.
Persuade Mary (136368, 84370)
Use Samuel's (137319, 83240) argument
Use Fyodor's (137377, 83285) argument
Use Arthur's (137344, 83284) argument
Rewards
Rewards for this mission.
Extensive info for this mission can be found in the official guide Arthur's Island Tours: Part Three.
The following box is transcluded form the official guide Arthur's Island Tours: Part Three: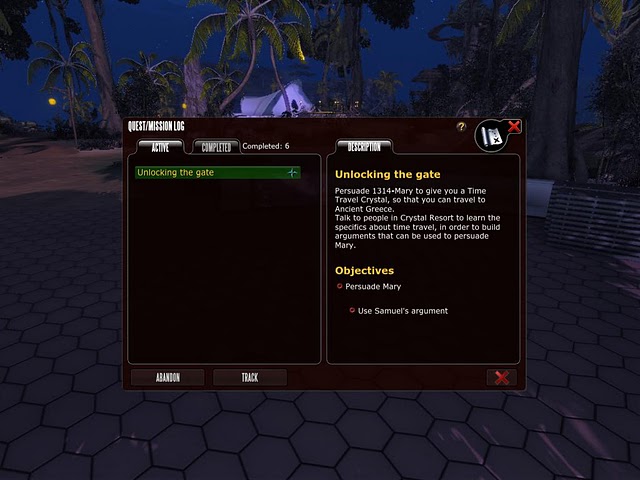 Did you have a nice nap? Well, I've really only been gone for an hour. I thought I'd be longer, but I couldn't find my friend. Instead I went home and changed my shoes, I'm getting a horrible blister, and had a nice dinner. I'm so sorry! I should have thought to invite you…how horribly rude on my part. I can assure you that I didn't know there would be dinner…it's just that I got home and my mother had been cooking a nice pie. Oh! I shouldn't have told you about the pie. If someone even mentions pie to me I can't stop thinking about it until I've had some. Do you have that problem too? No? I thought everyone had that problem…
Anyway, let's take a look at our objectives by opening up the Quest/Mission Log. Right…in my pie euphoria I'd forgotten that our goal was to try and convince Mary to give us some Time Crystals. I feel I should again mention that although Mary is a lovely person, er…robot, she can be quite tricky to reason with. I will shamefacedly admit that I once asked her to loan me some PED, but no amount of argument or entreaty would convince her. What did I want to buy? Well, I saw this lovely blue blouse up for auction…no, not for me! I have a dear, dear friend who I think would look very (blush) beautiful in that color. But, as I was saying…I will try to think of some good arguments to give Mary, but we may need to enlist the help of other Islanders as well. Let's talk to Samuel again and see if he has any suggestions.
Hmmm, the argument that Samuel thought of is rather interesting. Let's go speak with Mary and see if it works!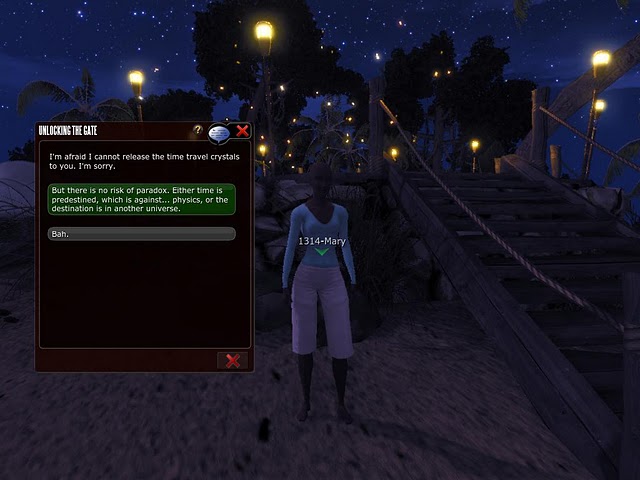 Go ahead and choose the argument that Samuel gave us. I've highlighted it in green so that there is no confusion…Oh no! I didn't mean to suggest that you were the type to be confused…Let's just see what she says.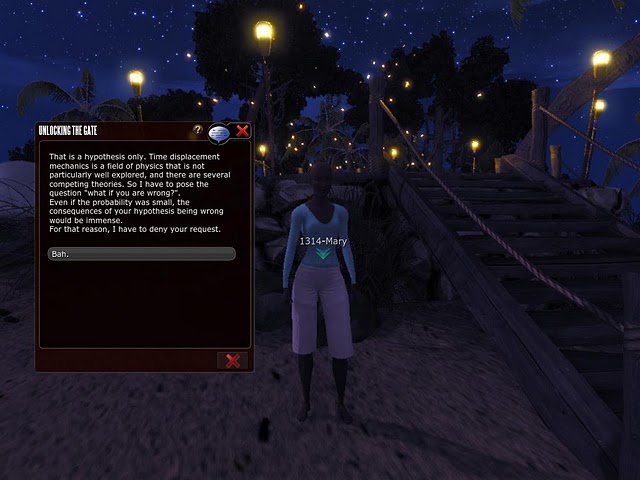 She appears to have rejected Samuel's argument. Let's go have a word with Fyodor and see if he has any ideas for us.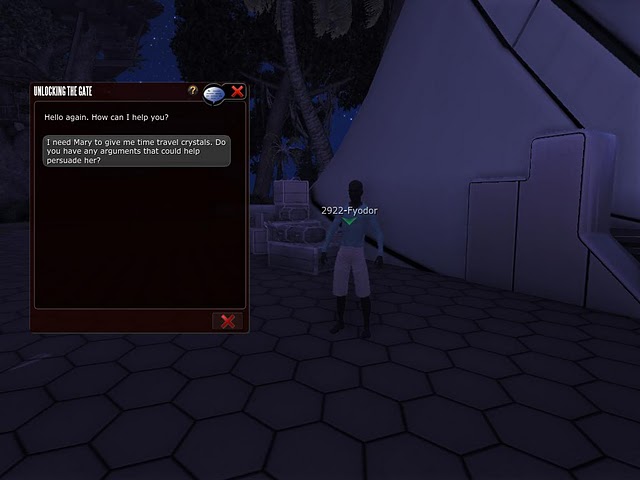 Hello there, Fyodor. How have you been? Oh, very well, thank you. Well, very well until now. You see we need to convince Mary to give us some Time Travel Crystals so that we can unravel the secrets behind the disappearance of the First Wavers, but she can be quite stubborn. Do you have any suggestions for how we might persuade her?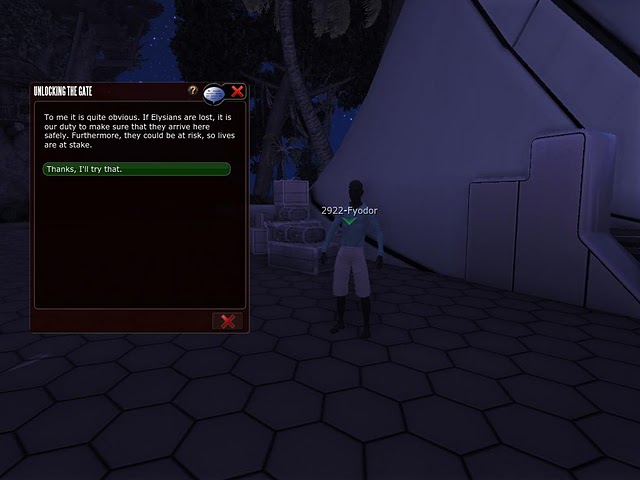 Hmmm, yes. That just might work. We'll need to appeal to her humanity rather than her logic…only she isn't human. What would you call it then? Sorry, Fyodor! I don't mean to offend. I am still adjusting to the differences between robot and human culture. Well, it was nice to see you. Let's head back to Mary and try out our argument.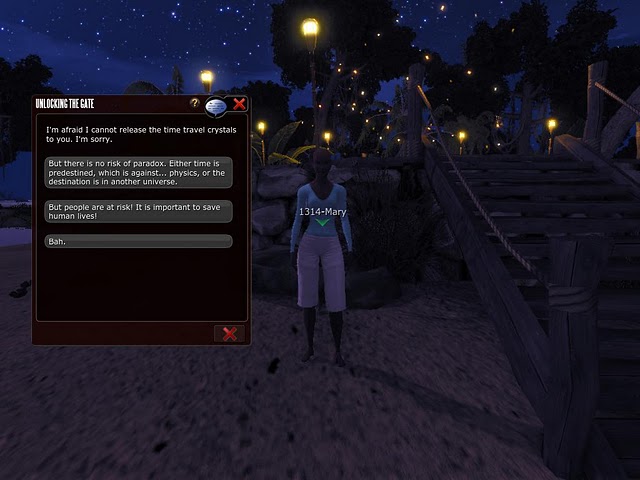 Let's select the second argument option and see what she says. I'll keep my fingers crossed that we are successful…I must admit though that crossing my fingers is a bit uncomfortable. What a strange practice…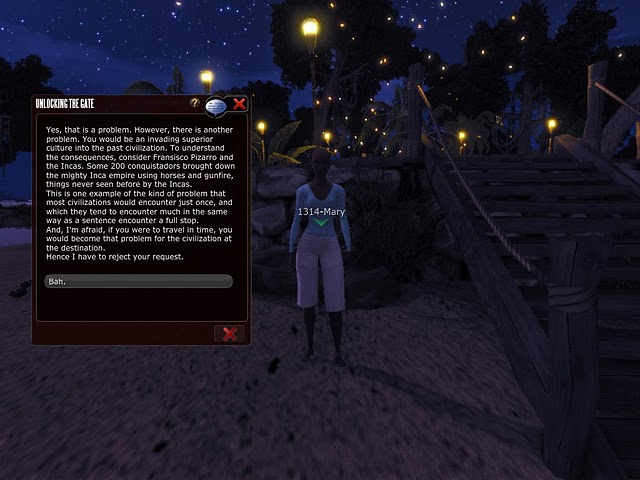 Bahhh! Forgive me. It felt like the only way to properly express my frustration at her rejecting our argument for the second time. Let me think for a moment…We could try visiting my mother and asking for her advice, but I am concerned that she would greatly delay our leaving or even try and convince us out of it. She considers teleporters to be dangerous because I lost my hearing for a few days when I first journeyed here. I don't even like to imagine what she would say if she discovered we were planning on taking a trip through time and space!
I need some time to think…Would you be willing to accompany me back to the area where we first met? Remember the teleporter you arrived on? The big banner? The monkey? Well there really can't be too many places on the island that meet that description. I left my diary back there on the table. It always helps my thinking process to write things out until I arrive at a suitable conclusion…please don't mention to anyone that I have a diary…or that I leave it out in the open. There are some things best kept secret.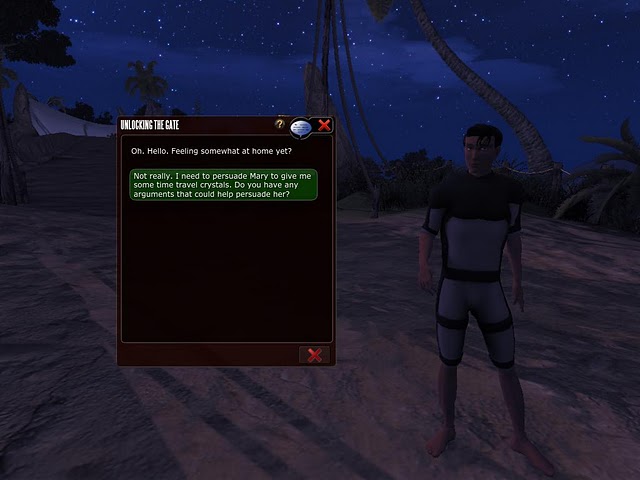 Ah hah! I think I've got it!!! After an hour and a half of feverish scribblings I believe I've hit upon a solution to our problem, an argument that Mary is incapable of refusing. I know it's a bit silly, but would you humor me by conversing with me so I can give you the information in a dramatic reveal? Go ahead and give me a NIK, Next Islander Knock, and then I'll tell you everything…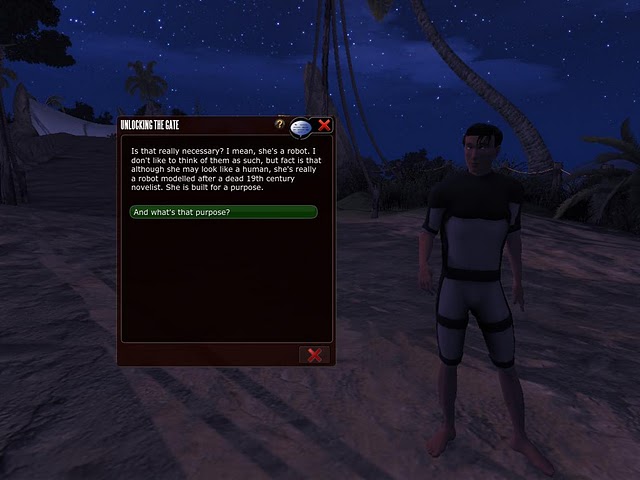 Are you beginning to see where I am going with this?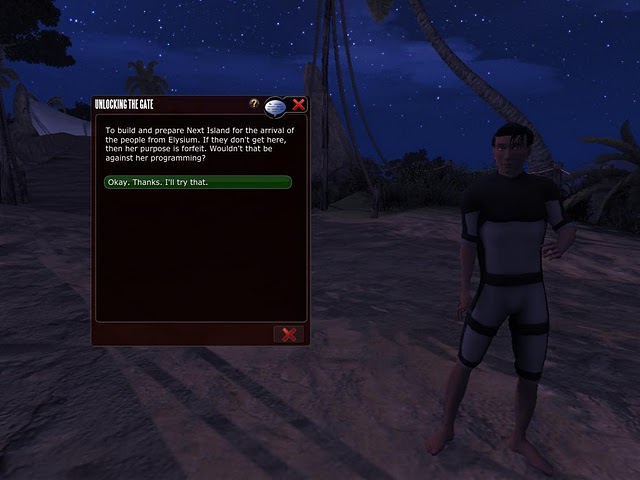 Do you see! We tried applying to both her logic and her humanity, but we forgot the most basic fact. Mary is a robot. We should have just applied to her programming from the very beginning as it is the root of her being. Let's return and, fingers crossed, ouch, we will have our Time Crystals.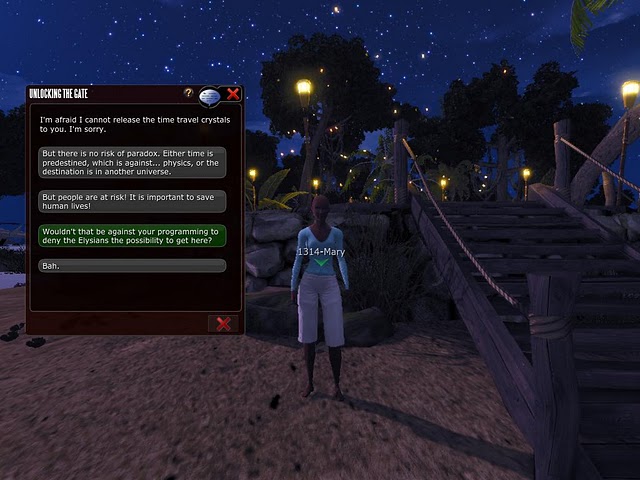 Go ahead and select the third available option and then let's see what she has to say.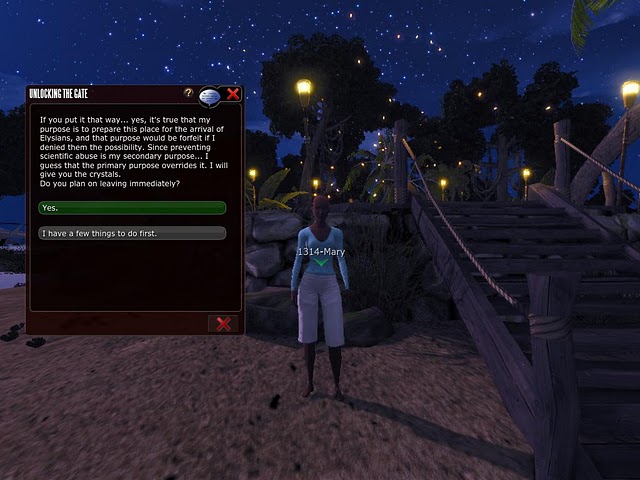 Hooray!!! She agrees to the validity of our argument.