The Oasis wave event
The Oasis wave event
Start Date
2011/12/03
Start Time
13:10
Destination
Calypso
Longitude
37200
Latitude
59850
Height
Creature
Rextelum
Closest TP is Jameson's Reach (was bugged but fixed in 12.1.4)
The wave spawn has a 3h cooldown period.
Small Rextelum are easily doable in Gremlin + 5B Plates.
Duration of waves before time out is 20 minutes.
~150+ Rextelum, mostly Weak, some Watcher and Soldier, a few Strong and Devastator
Weak-Ravager
???-Devastator
Strong-Hunter
Strong-Chaser
Strong-Queen
Hunter-Queen
Hunter-Marauder
Chaser-Marauder
Chaser-Slayer
Chaser-Slayer
Majestic-Slayer
The Sand King
The Sand Kings
[
edit
]
Sand King I
[
edit
]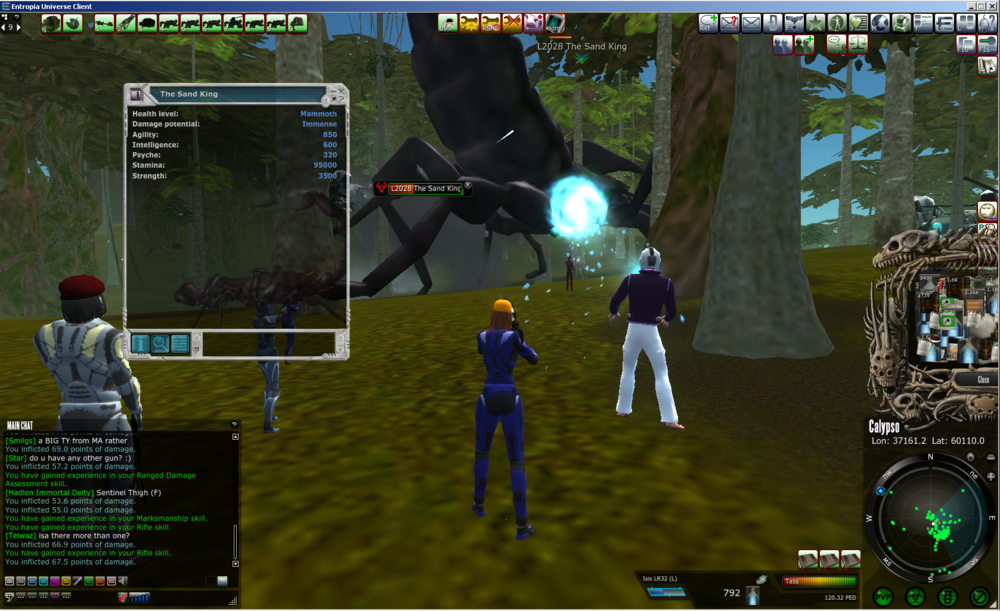 Sand King II - Sand King VI
[
edit
]
The Sand King VI.jpg

The Sand King VI, another No-looter
Sand King VII
[
edit
]
Sand King VII was a looter again, and dropped several unlimited Imperial HAZEN Armor parts, several types of Armor Plating (see below) and dropped the highly anticipated Sand King Blood Sample - one of the items needed to get to the Hussk.
More Sand Kings
[
edit
]
2011-12-02 17:37:01 27057 PED
2011-12-02 22:7:38 25887 PED
2011-12-03 03:52:40 599 PED
Typical Sand King battle
[
edit
]
Sand King Blood Sample
[
edit
]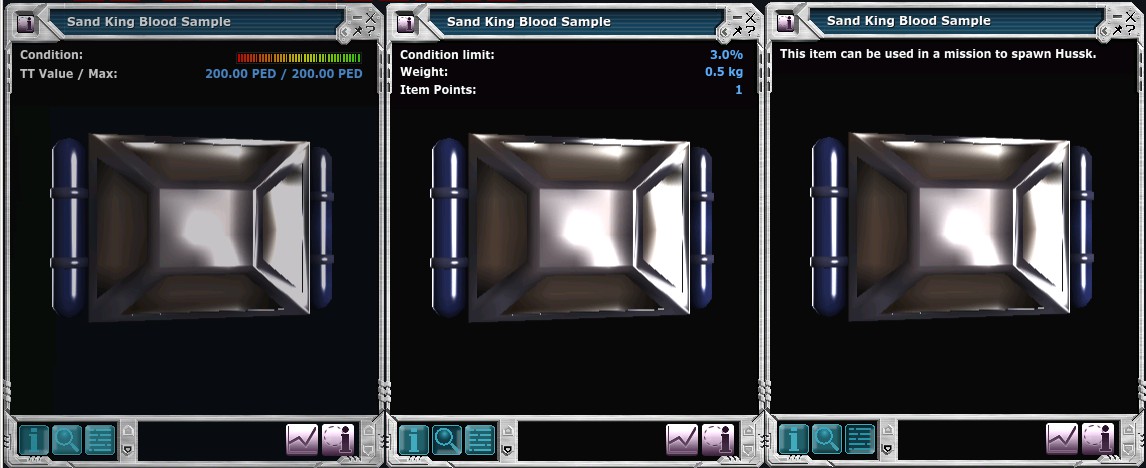 Imperial Hazen Harness (F)
[
edit
]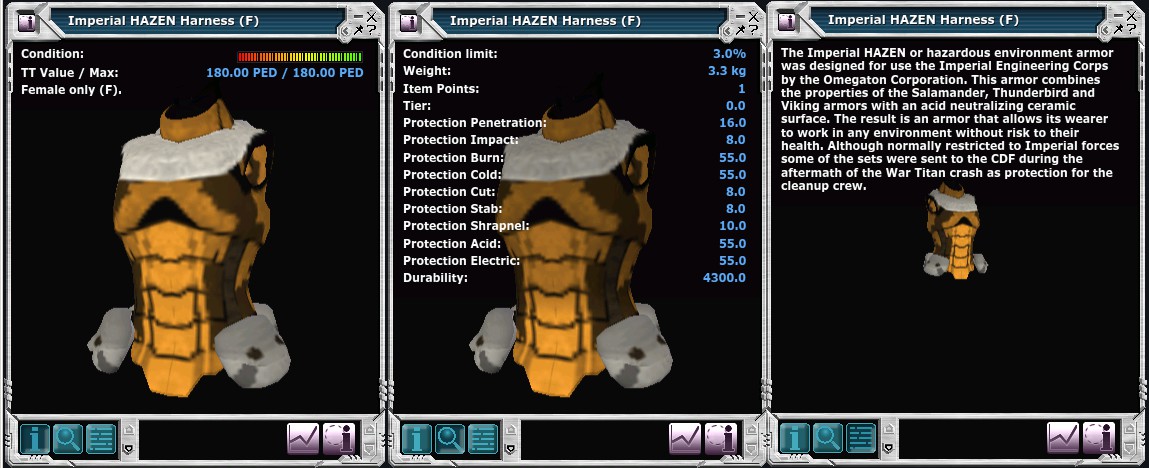 Dropped so far:
Female

Imperial HAZEN Harness (F)
Imperial HAZEN Arm Guards (F)
Imperial HAZEN Thigh Guards (F)
Imperial HAZEN Shin Guards (F)

Male

Imperial HAZEN Helm (M)
Imperial HAZEN Gloves (M)
Imperial HAZEN Thigh Guards (M)
Imperial HAZEN Foot Guards (M)
Protector Plating of the Sand King
[
edit
]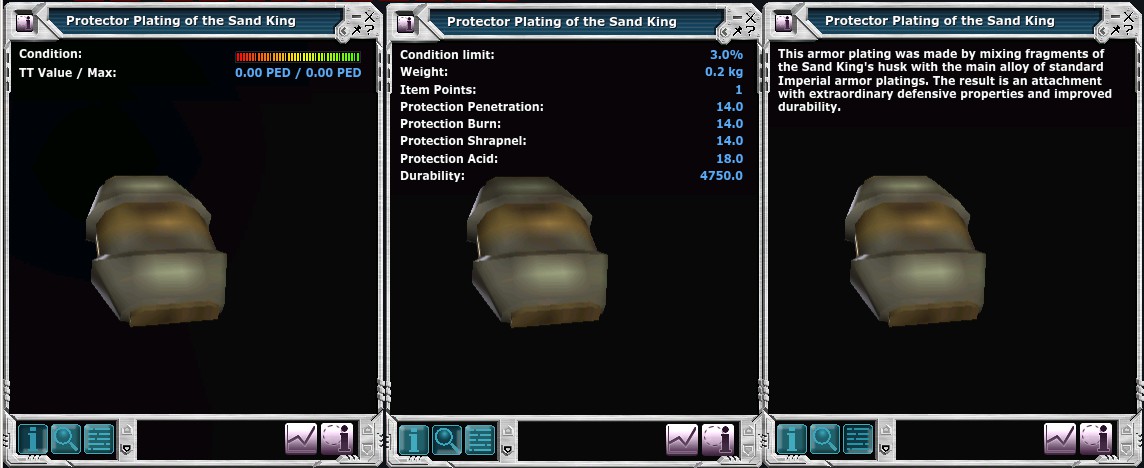 Guardian Plating of the Sand King
[
edit
]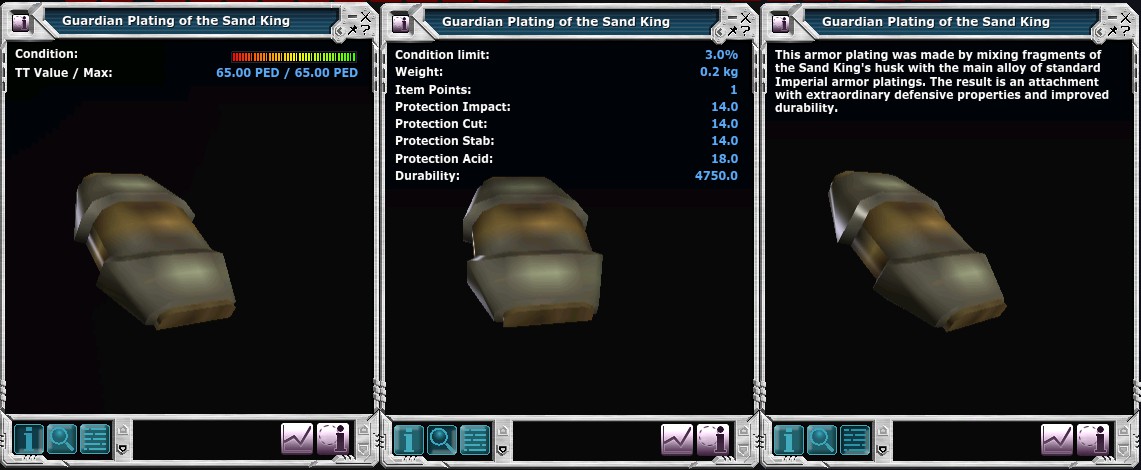 Defender Plating of the Sand King
[
edit
]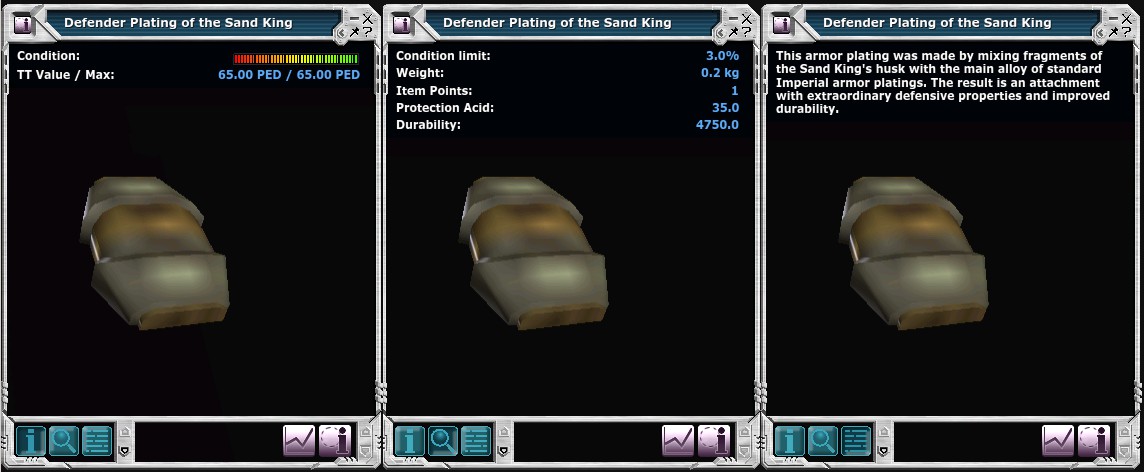 Further Information
[
edit
]
Obsolete, the spawn has meanwhile been reduced several times in number and area.
Approaches for better organization:

Meet at the Water Tank before the event to discuss strategy
Meet at the Water Tank after the event for an review
Know exactly where Rextelum spawn

The area in zones

Forum Thread: Rextelum Wave Event - Firepower Needed
Links, references, contributors, categories
[
edit
]
Wave events forum thread ttp://www.entropiaplanets.com/threads/wave-events.6314/