SEE Virtual Worlds
The first planets by SEE Virtual Worlds will be Planet Michael dedicated to Michael Jackson and the Universal Monsters Planet based on monster movies of Universal Studios.

For the development of the planets SEE Virtual Worlds obviously joined forces with First Planet Company and created a development Studio called SEE Digital Studios, further info: BREAKING NEWS: FPC & SEE Virtual Worlds Join Forces

http://cdn.entropiaplanets.com/w/images/4/47/SEE_Virtual_Worlds_Guide.pdf
SEE Joins EU Press release
[
edit
]
LOS ANGELES
October 6 2008 - SEE Virtual Worlds, LLC, a new division of SEE Touring Attractions Inc. - the awardwinning company behind many successful and innovative themed touring exhibitions, including Star Trek The Tour and Titanic Official Movie Tour - today announced a partnership with Mindark PE AB, the Swedish developer and creator of the Entropia Universe, to expand popular Hollywood properties into full, stand-alone virtual planets utilizing the Entropia Universe Virtual World Platform. "I believe that this is the first, fully realistic business capitalization of what has been up to now a fledgling but exciting new entertainment platform," said Martin Biallas, CEO, SEE Virtual Worlds, LLC. "Special Entertainment Events has been creating and presenting Hollywood's best themed entertainment projects for the last decade. Our unique relationship with the entertainment industry has provided us rare access and insight into what's required to bring high profile properties to the public. And, we know how to present those titles to their best advantage and protect them which is of great concern to our studio partners. There is no question as to the clear synergy that this venture embodies." In the first merger of its kind, Mindark will provide SEE Virtual Worlds the Entropia Universe Virtual World Platform. SEE Virtual Worlds will launch Hollywood-inspired virtual worlds to coincide with Entropia's debut of the state-of-the-art and award-winning Cryengine2 upgrade in early 2009. SEE Virtual Worlds will handle studio licensing of major Hollywood film and television properties and marketing for the theme worlds. NEVERDIE Studios, led by virtual world icon Jon "NEVERDIE" Jacobs, will design and develop the individual planets which will include input from the creative teams behind the original film or television property. Mindark will integrate the newly designed planets into the Entropia Universe. "Mindark has enjoyed great success in the emerging fields of virtual worlds," said David Simmonds, business development director, Mindark. "We believe that this long-awaited enhancement to the industry will bring interactive entertainment to a new level. As a company, we've been careful to only make such a move when the right combination of proven partners were realized and it's clear that there's no better triumvirate then this. Together, Mindark, SEE Virtual Worlds and NeverDie Studios represent all of the elements needed to expand this marketplace." "Movies give us the ability to watch our favorite stories, video games enable us to interact with our favorite stories and virtual worlds will enable us to play, work and grow inside our favorite stories," said Jon "NeverDie" Jacobs, president, NeverDie Studios. "Entropia Universe is the viable economic platform for this partnership given that virtual reality is a medium that has come of age."
About SEE Virtual Worlds:
Special Entertainment Events or SEE has been in the business of themed entertainment for over a decade. For SEE this is a process of utilizing known entertainment titles and franchises in new and innovative ways to increase brand awareness and create lucrative additional revenue streams for Licensors and project investors. SEE has worked with some of the most iconic names in show business, including Star Trek, Pokémon and Titanic. SEE has received numerous awards for excellence in touring attractions and other themed entertainment projects. SEE Virtual Worlds, LLC is the newest member of the SEE family and is a natural extension of the company's core business. By providing superior, professional production design, marketing and programming execution, SEE VW is in position to deliver the best feature quality gaming product and also ensure the enhancement of the brand and the fiscal success that these projects portend. Significantly, SEE VW's business model provides for the financing of the design, creation, and continued maintenance of these projects providing a rare "turn key" advantage for both studios and designers. SEE VW is another forward step into the themed marketplace for a company that has continued to be a leader in the expansion of the industry. Visit SEE VW at http://www.SEEVirtualWorlds.com
About Entropia Universe:
Entropia Universe launched in January 2003 and has grown to more than 750,000 registered accounts from over 200 countries. Its business model is entirely unique as the client software is free to download from the Internet and there are nomonthly subscription fees. As the only virtual universe with a real cash economy whose currency, the PED, has a fixed exchange rate of 10:1 with the U.S. Dollar, Entropia Universe provides a means for new players to immediately start exploring and earning real cash without having to deposit money. Funds acquired in Entropia Universe can easily be withdrawn into real-world cash. The real cash economy business model has been very successful; Mindark PE AB has been profitable since 2004. The 2007 turnover of Entropia Universe topped $400,000,000 U.S. For more information, visit http://www.entropia-universe.com
Additional information about Mindark PE AB, developer of the Entropia Universe is available at http://www.Mindark.com
Entropia Universe is a registered trademark of Mindark PE AB. Mindark supports and monitors the services and maintenance of the Entropia Universe platform.

About NEVERDIE Studios:
NEVERDIE Studios is the production division of Club NEVERDIE a virtual night club and asteroid space resort situated within the Entropia Universe. Club NEVERDIE is the highest grossing, privately owned virtual entertainment destination in virtual reality. NEVERDIE, an avatar created by Jon Jacobs, is included in the 2008 Guinness Book of World Records (biggest virtual world item purchase) and has been covered by 60 Minutes Australia, CNN, Fox News and other major news publications worldwide. More information is available at http://www.Neverdie.com
About Entropia Universe:
A unique model Massively Multiplayer Online Games, or MMOGs, are gaining much attention and building revenue. But as in any new medium, there have been lessons learned. While some MMOGs have done well initially, many have declined because the latitude of in-game-play is too narrow. Some have further declined because subscription fees and other regulatory fees are too high or intrusive. And others have just failed to provide the excitement and almost constant change that is so necessary. SEE VW has addressed these and other issues through this unique partnership and has provided a better means for Hollywood titles to be utilized in secure and more effective ways. Beyond being on the level of all major MMOGs in the marketplace, Mindark's Entropia engine also has two major elements that make it different from every other engine: - a real cash economy, and player-produced user enhancements. Players are able to earn money as they play with no subscription fees. Players can withdraw their profits in real dollars. Playing can even be a real "occupation". For Jon "Neverdie" Jacobs, an "Avatar" celebrity, it has become an extremely lucrative one. He has a virtual net worth well in excess of one million USD and a real gross profit of $250,000 annually. This unique economic element makes this engine especially successful in increasing player engagement. On average, it is estimated that players spend about 28% more time per visit here than on other well-known sites. And that's more time spent "in-brand" - and it's hugely cost effective. With this engine and under basic guidelines, a player can be as much a builder/enhancer as the developer. Players themselves can build businesses, explore frontiers, discover new creatures, mine valuable resources and develop new territories. This means that the planets are constantly changing, with players shaping their own experience and simultaneously - everyone else's. Combined with Mindark's regular enhancements, Entropia has the distinction of being one of the most adaptive and dynamic environments in the MMOG/Virtual World space - a key to long-term success. Six years from launch, the model continues to attract thousands of additional Players each year - with no advertising. Mindark's Entropia platform is a wonderful hybrid of Entertainment, Social Networking, and Entrepreneurship. It is the right platform for Hollywood's best and brightest titles, and in collaboration with SEE VW, this new venture is destined for success
Error creating thumbnail: /bin/bash: /usr/bin/gs: No such file or directory convert: no decode delegate for this image format `' @ error/constitute.c/ReadImage/576. convert: no images defined `/tmp/transform_37fdda50f001.jpg' @ error/convert.c/ConvertImageCommand/3229.
SEE buys Calypso Press release
[
edit
]
LOS ANGELES, GOTHENBURG, SWEDEN – January 27, 2011
SEE Virtual Worlds™, an entertainment company developing a virtual reality universe of connected planets tied to licensed franchises, and MindArk, the company behind the virtual 3D environment Entropia Universe, today announced SEE Virtual Worlds has procured the rights to Planet Calypso, the first planet in the Massively Multiplayer Online Role Playing Game (MMORPG) Entropia Universe for 6 million USD. Taking place in a distant future, Planet Calypso is home to a human colony working to establish a new virtual civilization. The planet has been successfully running since 2003 with more than 950,000 registered accounts from 200 countries and territories with $428 million USD processed in player to player transactions in 2010. Additionally, SEE Virtual Worlds' has acquired the assets of First Planet Company, a subsidiary of MindArk.

The acquisition follows news late last year that SEE Virtual Worlds plans a rollout of new planets in the Entropia Universe, beginning with Planet Michael™, a game being developed with the support and involvement of the Michael Jackson Estate, and a Universal Monsters world featuring Van Helsing and Universal Studios' legendary line of cinematic monsters. First Planet Company will be rebranded as "SEE Digital Studios," and will continue to enhance Planet Calypso while taking on new staff for the development of Planet Michael.

"As we move into 2011 and beyond, SEE Virtual Worlds will continue to bring its innovative product offerings to the virtual world marketplace," said Martin Biallas, CEO of SEE Virtual Worlds. "We know that virtual worlds are extremely lucrative and much of our success will be strengthened by working with Mindark and the added experience that First Planet Company brings to the process, having developed the most successful planet in the Entropia Universe to date."

"SEE Virtual Worlds is an excellent addition to the Entropia family due to their commendable reputation in the entertainment licensing space and their impressive list of upcoming entertainment properties such as Planet Michael," said Jan Welter Timkrans, founder and CEO of MindArk PE AB. "As a platform provider in interactive online entertainment, we are focused on sharpening and expanding the highly successful Entropia Universe working alongside partners as they create and run new planets."

Planet Michael will be an immersive virtual space themed after iconic visuals drawn from Michael Jackson's music, life and the global issues that concerned him. Entire continents will be created to celebrate Michael's unique genius in a way that underscores his place as one of the greatest artists of all time. At its core, Planet Michael will be a massive social gaming experience that will allow everyone, from the hardcore fan to the novice, to connect and engage in collaborative in-game activities with people worldwide. MindArk has spent over a decade developing and investing in the technological advancement of the Entropia Universe, providing a unique opportunity to transform new and existing IP into interactive entertainment. With SEE Virtual Worlds' acquisition of Planet Calypso and First Planet Company, MindArk is committed to fine-tuning their business model as a platform provider in 3D interactive online entertainment.
For additional information about SEE Virtual Worlds and SEE Digital Studios, please visit: www.seeglobalentertainment.com

For game updates and to register to become a part of Planet Michael, please visit: www.planetmichael.com

For additional assets and information please visit: http://bhimpact.gamespress.com/client_page.asp?i=181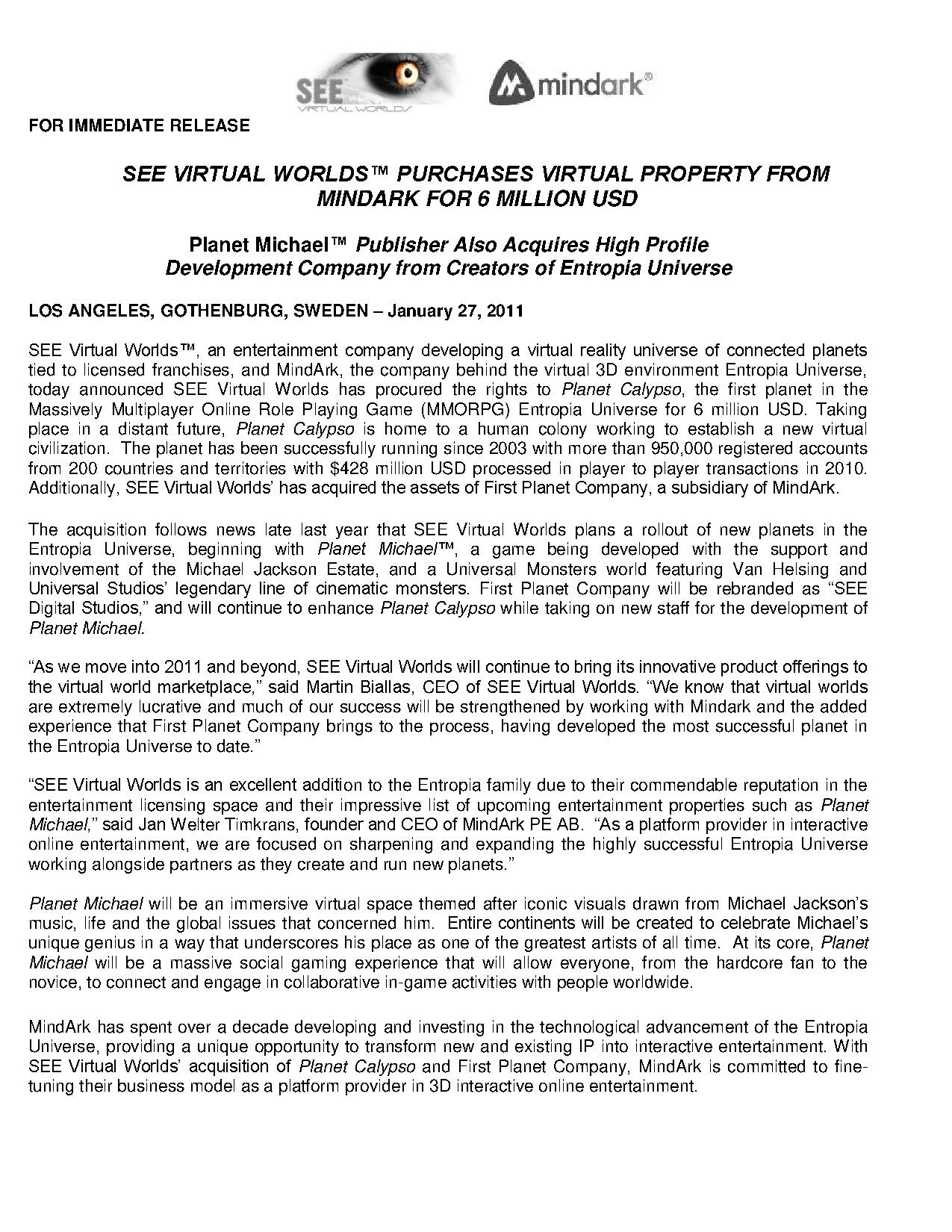 Cooperation between SEE and MindArk has been terminated
[
edit
]
Notice: 16 June 2011 12:30 UTC
MindArk wants to inform our users that the cooperation between SEE and MindArk has been terminated. From now on, MindArk will run the operation of Planet Calypso. Participants of the Entropia Universe will not in any way be affected.
[source]
Dispute between SEE and MindArk settled
[
edit
]
Mutual Settlement regarding Planet Calypso
In June 2012, the arbitration between SEE Digital Studios and Planet Calypso AB (then under the name AR Universe AB) together MindArk regarding Planet Calypso was settled. Planet Calypso AB and MindArk are satisfied with the settlement arrangement.

source (page 6):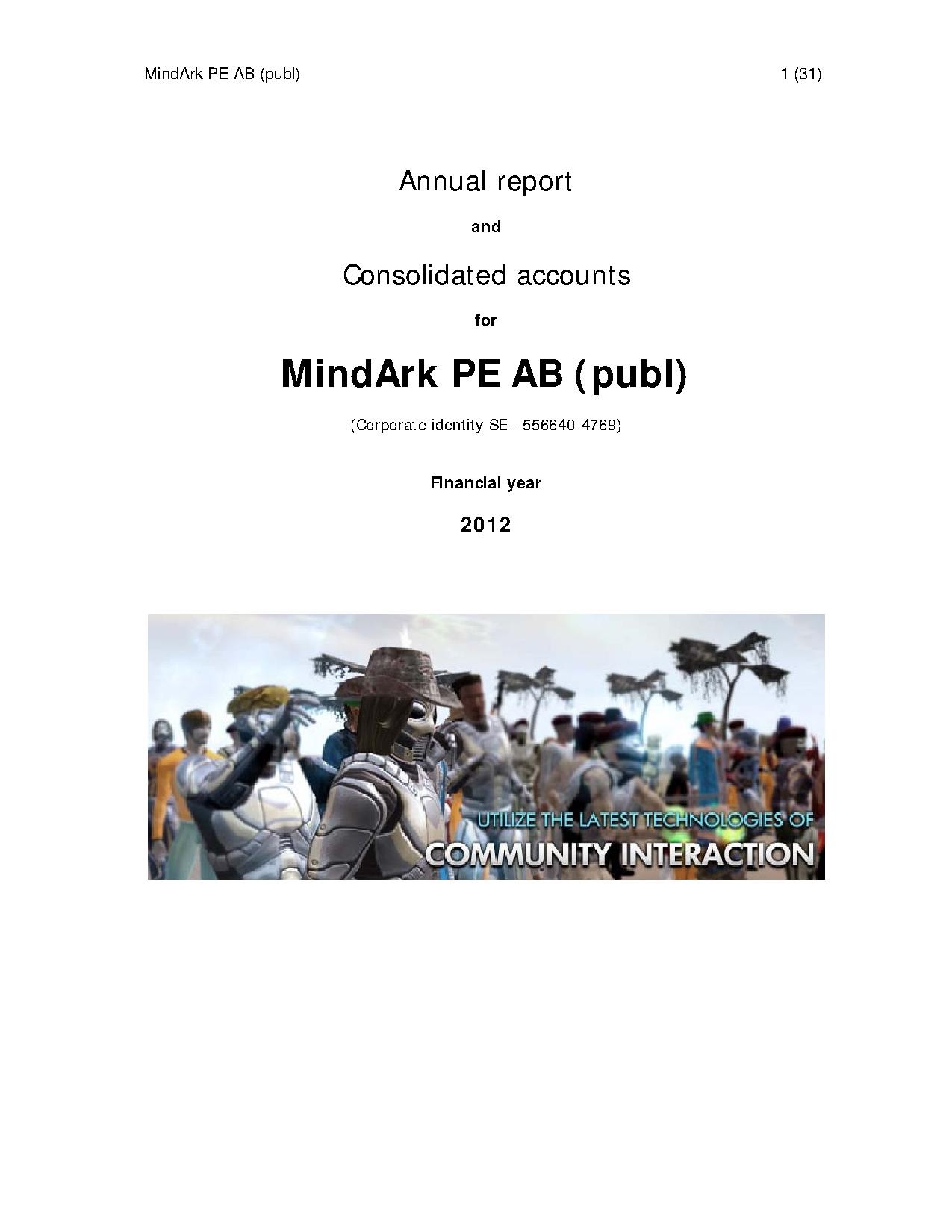 SEE Virtual Worlds CEO Matin Biallas about SEE's plans
| | |
| --- | --- |
| | You know of other videos that should be on the wiki? Please leave a note in this tread: Videos to wikify! |
| Video by someshowtv | |
...
Articles and interviews
[
edit
]
Links, references, contributors, categories
[
edit
]