Mission:Iron Challenge: 250 Longtooth
From EntropiaPlanets Wiki - Entropia Universe Guides Wiki Info
| | | |
| --- | --- | --- |
| | Spoiler Alert: This section might contain information about in-game plots. | |
MISSION FACT SHEET

Mission Name
Iron Challenge: 250 Longtooth

Quest Chain
Iron Challenge Longtooth Mission Chain

Mission Type
Hunting

Release Date (VU)
2010-02

Personal Status
{{{missionPersonalStatus}}}

StartingLocation
Cape Corinth

Quest Giver
Iron Challenge Mission Broker

Helpful Teleporters
Cape Corinth

Related Locations
Presently found at (62400,89000) and (60000,86000)

Requirements
Completion of Iron Challenge: 50 Longtooth

Mission Objectives
Kill 250 Longtooth

Necessary Equipment
Weapon (Armor and/or healing necessary for most)

Unavoidable Enemies
Longtooth

Possible Enemies
Feffoid

Approximate Costs
~20800-26000 PEDs

(Based on 16-20ped/kill x 1300 kills, not taking returns into account.)

Rewards
1 Strength

Next Missions
Mission:Iron Challenge: 1,000 Longtooth
Template:Mission Fact Sheet V1.0
General
This mission is the 2nd mission of the Iron Challenge Longtooth Mission Chain added to the set of Iron Challenge Missions in Planet Calypso Content Release 2010.03.
The objective of this mission is to kill 250 Longtooth.
In-Game Description
CFA hosts a series of Iron Challenges. This stage of the Longtooth Iron Challenge is to kill 250 Longtooth.
Walkthrough
Start
Pick up the mission at the broker.
Find your way to a Longtooth spawn. Because they are event mobs they will possibly change location.
One spawn can be found at (62400,89000) has fewer mobs, but is close to Cape Corinth's Teleport.
A second spawn is at (60000,86000) has it's closest Teleport in Skiron.
Objective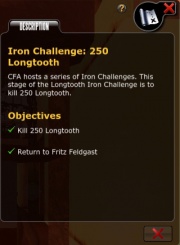 Kill 250 Longtooths
Return to the mission broker Fritz Feldgast located in Cape Corinth.

Completion
Talk to the mission broker Fritz Feldgast.
Upon completion (clicking "Tell me more about the third step") you will be automatically rewarded 1 point of Strength.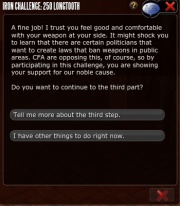 .